A diverse group of professional members of ISABS with exemplary experience in Academics and/practitioner roles in varied organisations form the Academic and Programme Council (APC) of ODCP. They take the lead in designing, continually upgrading the quality and delivery of the programme. They also form the core group for facilitating the various contact modules while also collaborating with invited faculty. The faculty is invited from ISABS professional members and our professional network in India and abroad in teaching and external assessment roles.
The current APC members are: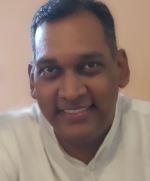 Mukul Joshi
Director – ODCP
Mukul is an academician, psychologist, executive coach and consultant. A PhD in Applied Behavioural Sciences, Mukul received his accreditation from ISABS in 2006.
He has rich experience working with academia and senior business leaders across industry verticals and has held leadership roles in the corporate world in companies like Infosys, GVK and Gammon. Mukul now runs his own independent practice.
As an HR/OD consultant he engages with private and public sector companies, NGOs and multi-national corporations. Mukul enjoys working at the system level and some of the areas he has been focused on in the past are:
Culture Transformation
Application of the Business Excellence Model (BEM)
Re-engineering performance management systems
Employee engagement
Workforce planning & optimisation
HR Transformation
Mukul's coaching clients include senior business leaders and organizational managers across small, medium and large companies and NGOs.
A strong believer in 'we owe it to our future', he fulfils his social commitment by associating with various academic institutions as a faculty member for Organization Behaviour, Organization Development and by serving in several Academic Boards.
Mukul is qualified in a wide number of psychometric tests, which he uses with his clients to help develop insight and understanding. Having deep knowledge in the area of human processes and assessments he has designed assessment centers for leaders and managers and also worked with HR and business leaders in building competency frameworks and measuring scales for different career ladders.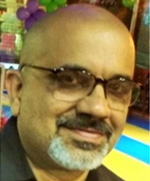 Atul is a Human Resources professional with over 27 years of rich experience. He is the National President of ISABS.
Atul is a subject matter expert in Human Process facilitation and combines it with in-depth understanding of HR conceptual knowledge, HR & OD processes and tools.
Atul was the HR Head for Rolls Royce South Asia & Middle East in his last corporate assignment. He has diverse experience in leadership roles at companies like GE Money, GECIS, NOKIA, Thermax and Eureka Forbes. Atul brings in expertise in areas like Leadership development, HR Process Reengineering, Performance management, Employee Engagement, Human Behavioral training. He is a Certified Personal Counselor and Grid Instructor well versed in synergogy methodology. He has led several assessments for Senior leadership across Asia, Middle East and Europe. Atul partners with his clients to lead with purpose and participation.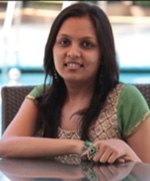 Payal is currently Director & CEO, Celebratory Network. She is involved in work that includes Systemic Change, Leadership Development and Diversity and inclusion.
Payal work with CXOs, Founders, Board of directors and Women Leaders; to help them prepare to be future-ready to lead change. She believes that using Self as an instrument of change is the key to facilitate any change process. She has worked with organizations like Bank of America, Tata group companies, Glenmark, Capgemini and more.. Payal, is a certified Coach, OD Consultant, has a MA in English Literature, and MBA in HR.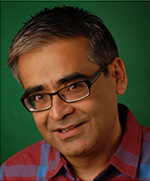 Sanjay earned his post graduate in management from IIM, Bangalore and an engineering degree from IIT, Kharagpur. Sanjay spent 15 years in business leadership roles in Profit Center Management, Global Account Management, Strategy and Operations Consulting, and Supply Chain Management. P&G, Wipro, Andersen Consulting. AT Kearney, Infosys were formative years of his own leadership development. He has recently co-found India's first startup school – CommenceMint – a venture and founder development organization for very early stage start-ups.
Sanjay came to ISABS in 2005 in search for personal meaning and stayed on to be accredited eventually in 2012, as a Professional Member and facilitator for human processes.. Sanjay integrates his business leadership experience with understanding of human behavior to chart and guide pragmatic change journeys. He is certified to use various methodologies and instruments including Hogan Assessments, FIRO-B, Existential Universe Mapper and Workplace Big 5. He has an EQ Certification from Six Seconds USA and is certified in Clear Leadership® model. Sanjay is a certified Associate Coach from Erikcson International College.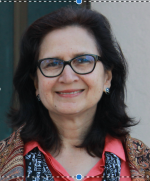 Marisa D'Mello, Ph.D. has 27+ years of work experience in various roles such as Psychologist, Professor, Trainer, Researcher, Facilitator, Coach, Counsellor, and Human Resource (HR) manager. Having taught Psychology at St. Xavier's College, Mumbai and subsequently, worked in Patni Computer Systems and Mastek Ltd. in HR roles, she enjoys combining her academic and practitioner expertise.
Marisa's educational qualifications are from India, USA and Norway. They include two Master's degrees in Psychology, a post-graduate Diploma in Human Resources Management, and a Doctorate in Social Sciences. With several international publications to her credit, she has guided doctoral students and presented academic papers at conferences and seminars across Europe. She is an accredited member of ISABS and ex-Dean, Research on the Board of ISABS. She has also been a prior Member of the APC for ODCP. Marisa is an MBTI certified trainer as well as a qualified Practitioner in Cultural Transformation Tools (CTTI) by Barrett Values Centre.
As an independent OD consultant, coach and counselor, Marisa partners with corporates, academic institutes and NGOs to conceptualise, design and execute a range of behavioral interventions related to self transformation, leadership development, organisational culture building and employee engagement. Besides travel within India, her assignments have taken her to the UK, Dubai and the USA. She is also a guest faculty at the IIM-A.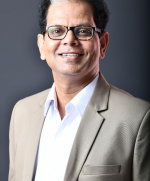 In a professional career spanning close to 30 years, Satyakki has held several leadership roles in multiple Indian and MNC organisations across Manufacturing, Pharma, ITeS and Media & Entertainment Industry. Prior to founding GrowthSqapes Consulting, he was the CHRO of an Indian media giant. Satyakki has several thousand hours of facilitation experience in the field of leadership development and coaching at the Board as well as the C-1 level under his belt.
Additionally, he also has the experience of working in the area of OD in the European market. As the head of the Leadership and OD practice at GrowthSqapes, he assists clients in building a strong leadership capability building foundation by extending the understanding and implementation of leadership assessment & development frameworks.
Satyakki is an alumnus of The Tavistock Institute, London. He is a facilitator and a professional member of the Indian Society for Applied Behavioral Science (ISABS) as well as National Training Labs, (NTL) USA. He is certified on Brain Mapping from HBDI Australia and has also completed his ICF certified Coaching training from the Neuro Leadership Institute, USA. He is pursuing his Doctoral Studies at premium institute in India.
Apart from being a highly impactful organization strategy advisor offering organizational development interventions that helps both individuals & institutions, Satyakki is also adept in facilitating learning journeys in leadership development, change management, organisation strategy and coaching for senior management level professionals.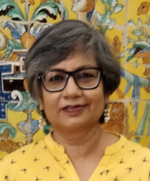 Snigdha Pattnaik is an academician, consultant and trainer who has done extensive work in the areas of human resource management and behavioral science, for over three decades. Currently she works as Professor at the Xavier School of HRM (XAHR), Xavier University Bhubaneswar and is a visiting faculty at several institutes in India and abroad. Her domains of expertise include managerial excellence, personal effectiveness and growth, women's leadership, organization development, team building, and learning and development. She has worked with clients across diverse sectors and has several publications in reputed journals. She is passionate about books and travel, wants to keep learning throughout life and to keep pushing boundaries.
Snigdha is a Post graduate in HRM from XLRI Xavier School of Management, Jamshedpur and a doctorate in Personnel Management from Utkal University, Odisha. A professional member of ISABS. Snigdha has been the Program Director for ODCP in the past. She has completed a 5-yr programme on 'Collaborative Leadership for Women' and is trained in Clinical Hypnotherapy. She is a member of the NTL Institute for Applied Behavioral Science, USA; the National HRD Network (NHRDN), India; Society of Human Resource Management, USA; and National Institute of Personnel Management (NIPM), India.
Email id: snigpat@gmail.com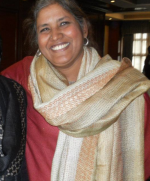 24+years work experience across corporate, development sector & leadership development consultant. Specializes in behavioral science, Coaching leadership, an exclusive women's leadership trainer & group process facilitator. In the capacity of a consultant she has worked on assignments both within India & Abroad.
Accredited professional member of ISABS – Indian Society for Applied Behavioural Science & currently President of ISABS. Also, certified Women's Work leadership trainer – USA. Associate Consultant with Better Future Leadership Organization (Netherlands based organization).
She has participated in Coaching from Systems perspective – SOL (Society for Learning), Group Relations Conference on Unconscious Processes from Tavistock, UK.
Other information
Joy Srinivasan founded Makkala Jagriti in 2003 a social organization in Bangalore (after working in the corporate organization for over a decade, she found passion to dedicate her purpose in the social development movement. She built and managed Makkala Jagriti as an organization from its inception stage). Now, she coaches & builds leadership skills for the executive management team to herald the organisation towards a social movement to achieve quality education & community development for an equitable society. www.makkalajagriti.org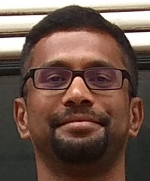 Amol Pawar has 18+ years of business, HR, and management consulting experience in sectors like Engineering, Manufacturing, IT, ITES, Service, and Retail. He has worked with teams across the globe including India, USA, Canada, UK, UAE, Singapore, China, and Israel.
He has prior experience in designing and implementing organization development interventions to build capacity and deliver results. He has worked on evaluating and implementing HR technology solutions to deliver strategic value. He has built HR technology solutions and products based on customer requirements. He has created, published, and presented insights about HR technology at various industry forums.
He has built and operated a shared service center for business processes like – Marketing, Sales, Engineering, F&A, SCM, and HR. He has led and managed teams of HR and Talent management professionals with strategic and operational responsibilities.
Amol is married for last 14 years and currently lives in Pune, India with his mother, wife and 2 boys. Amol has lived & studied in Pune for most part of his life and has completed his MBA from SIBM. He has a keen interest in Urdu Poetry and occasionally writes a couplet or two of his own. He is an amateur painter with interest in nature and loves to go trekking and hiking whenever time so permits. He grew up in a Maharashtrian middle-class family and stands by values of honesty, transparency, and mutual respect. He is an avid reader and movie buff. An opportunity area for him has been to get better at taking selfies and even pictures in general.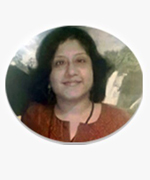 Arati is a seasoned HR leader and OD professional. Working with people and business issues to arrive at a winning solution energizes her. Arati's experiences across organizations has taught her that the magic which individuals can create together through interactions within and outside the system is the differentiator in any setting. She has touched that zone a few times and hopes to co create that space again and again! Here are a few of the OD interventions where Arati was involved
Working with one of the states in the Union of India on Teacher Education Development initiatives
Interventions around consumer experience sensitization for a leading mobile consumer brand
Visioning and Future Roadmap for a not-for-profit organization
Arati is a continuous learner and learns the maximum by 'doing' and 'being'. Her formal credentialing include
Postgraduation from XLRI Jamshedpur
FIRO B and Team Management Profile
ISABS Professional member
Member of the Rotary Group Study Exchange Program
Certified Strengths Coach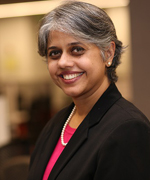 Veda is an organization development specialist with over 20 years experience. A key priority for Veda is continuing to build a values-based environment where exceptional people can do and be their best and contribute to their and the organization's success.
During her career, Veda has worked with top of the line companies from Hospitality, Finance and IT sectors giving her a broad range of experience and insight into the nuances of development needs across industries, about what is different and what remains constant when it comes to development and change. She is a trained process facilitator and has worked with several senior leaders to co-create and deploy strategic talent related initiatives. She is comfortable working at the individual, small group or system levels and is a firm believer in participant centered learning.
Veda is a keen student of yoga and the yoga sutras and spends a lot of her free time in reading and reflecting on the philosophy discussed there. She is currently inculcating a journaling practice and stillness practice to deepen her journey towards self
Veda holds a postgraduate degree in Social Science from Central University, Hyderabad and a postgraduate certificate in HR from XLRI. She's an ICF certified coach and Professional Member of Indian Society for Applied Behavioral Science (ISABS)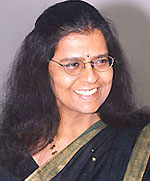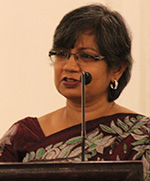 Snigdha Pattnaik
Past Director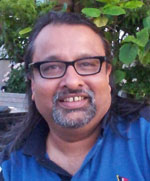 R.Sankarasubramanyan
Past Director